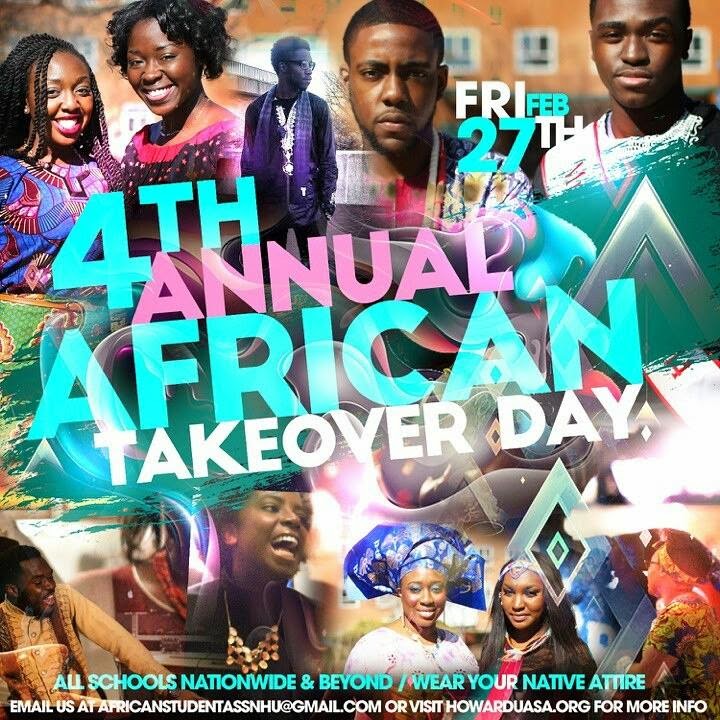 Howard University African Students' Association presents
The 4th Annual African Take Over Day
Happening on Friday, February 27th, 2015
All Schools Nationwide & Beyond / Wear Your Native Attire
More Info on African Take Over Day:
African Takeover Day is a Howard University African Students' Association original event which has its humble beginnings in 2012. It was the brainchild of Debby Okeke, former Public Relations Officer and twitter personality @africandad.
African Takeover Day original intent was fueled by the huge social media hype with the hashtags such as #Africantakeoverday #AfricanPride and much more.
The purpose of this event is to promote African Unity and sense of pride throughout the diaspora. It served as a way to close Black History month with African pride and highlight different cultures on campus, hence, the last day of February was established as African Takeover Day.
The basis of African Takeover day was that stude
nts and faculty members are to wear traditional attire throughout the whole day and show their African pride and culture through clothes.
Often times, we, as students and young professionals, are not given the opportunity to dress in our traditional regalia unless attending events that warrant them.
This serves as a way for college students primarily to feel comfortable in their culture.
Africa is beautiful and African Takeover Day is a perfect display of that. Over the years, African Takeover Day has gone beyond the expectations reaching people in Japan, Canada, and the UK to partake in the cultural festivities.
Make sure to wear african clothing (even ankara clothing on
Check out more info on the event below:
Follow African Take Over Day on Social Media:
#ATD2015 #AfricanTakeOverDay2015 #AfricanTakeOverDay
—-