—-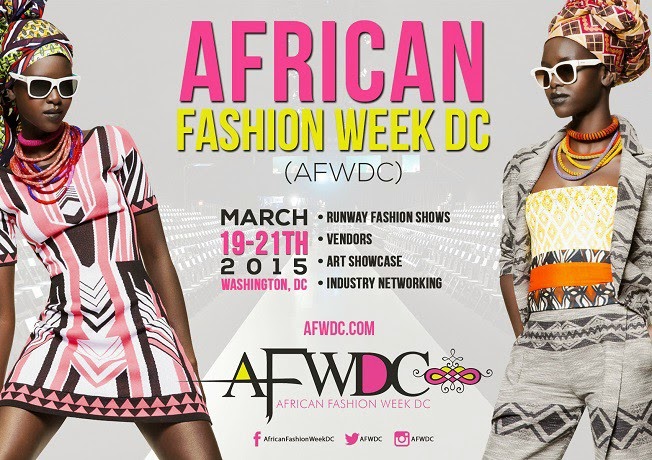 Washington, DC — Mark your calendar and save the date for the
first ever-African Fashion Week DC (AFWDC) happening March 19-21, 2015.
The main event leads with an action packed schedule; accompanied by shows featuring African designers, retail vendors, entertainers, art, businesses, models, celebrity appearances and much more.
The anticipation surrounding AFWDC is very high — this event will be a huge success!
The beauty and intricate detailing of African fabric, textile and design coupled with the latest African fashion trends are the growing source of fascination and demand for African fashion and art.
AFWDC attendees are sure to be inspired by the high profile African designers currently working with Haute Couture and Ready-to-Wear.
Additionally, attendees will be introduced to Emerging designers and find Eco-Friendly, Luxury Goods and Fashion Accessories.
As of today,
there are only 30 tickets left
for AFWDC 2015!
Hurry On Up and Get Those Tickets
Check out more info on ATAFWDC and ticket info below:
AFWDC 2015 Schedule
AFWDC Kickoff Industry Networking & Cocktail Happy Hour
Location: Kabin Lounge
337 Connecticut Avenue Northwest, Washington, DC 20036
Date: March 19, 2015
Time: 6:00pm to 11:00pm
AFWDC Runway Fashion Show and Vendors
Location: The Washington Post Conference Center
1150 15th St. NW, Washington, DC
Date: March 21, 2015
Time: 4:00pm to 10:00pm
AFWDC After-Party
Location: Stone Fish Lounge
1708 L Street NW, Washington, DC
Date: March 21, 2015
Time: 10:00pm to 3:00am
—
Designers
Retailers
Tickets
(http://www.afwdc.com/tickets/)