The All Things Ankara Brunch is an exciting event for you to slay in your stylish ankara print attire, eat delectable West African cuisine, and do it all again.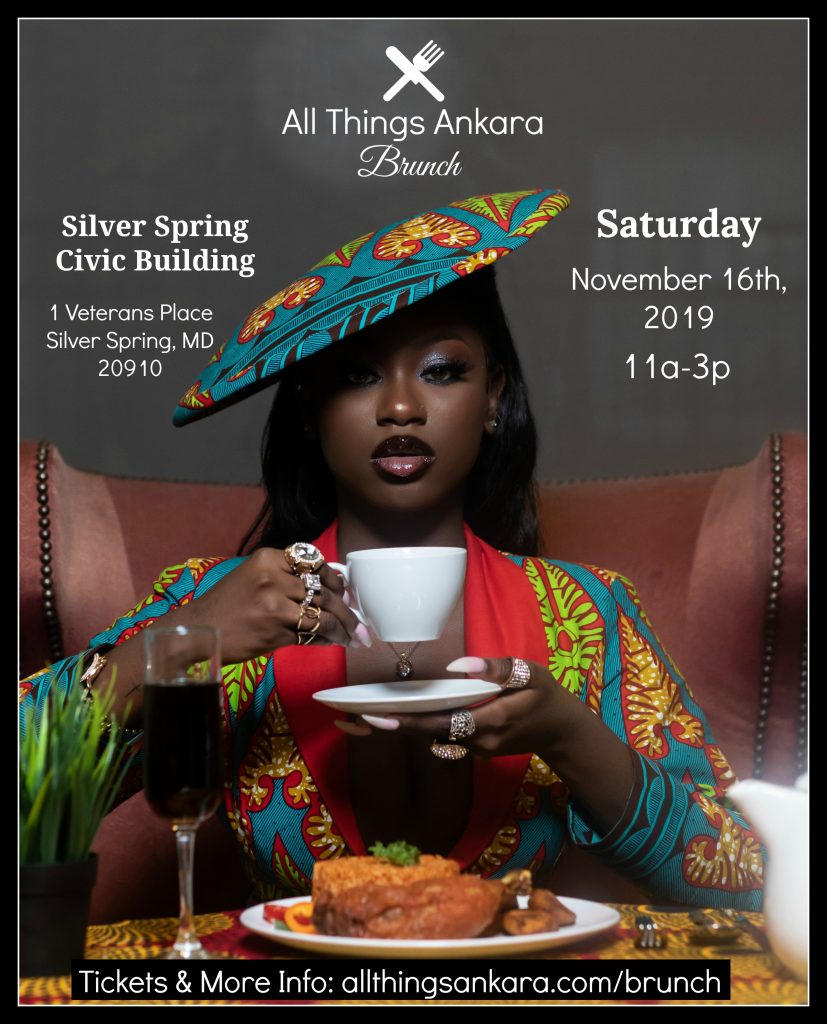 Have you seen the All Things Ankara Brunch 2019 Campaign? Check it out here.
This is the 2nd All Things Ankara Brunch this year and the first All Things Ankara Brunch in the U.S. The first All Things Ankara Brunch was a success and took place in London back in June 2019. Check out the recap here.
We are super excited to see all of our DMV Ankaranistas!
The dress code for the event is fashionable ankara print attire. A photographer and videographer will be on site to take pictures for our website and social media pages.
A general admission ticket grants attendees access to a delectable West African buffet, unlimited mimosas, and a free All Things Ankara ankara print tote bag.
See the tote bag on All Things Ankara Shop here.
The All Things Ankara Brunch menu includes:
Specialty Food – Suya Tacos
Carbs – Jollof Rice, Waffles, & Home Fries
Protein – Scrambled Eggs, Bacon, Chicken & Fish
Small Chops – Meat Pie, Fried Plantain, Chin Chin, Plantain Chips
Vegetables – West African Salad
Fruit – Mixed Fruit
Dessert – Cupcakes, Cake Pops & Cookies
Mixed Drinks – Ankaranista Lime Rita, Brunch Fruit Punch, Passion For Fashion Cocktail & Nova Mimosas
Beverages – Water, Hot Tea & Hot Chocolate
Get tickets at allthingsankara.com/brunch/tickets
For more info go to allthingsankara.com/brunch
Follow us on Instagram at @allthingsankara @allthingsankarabrunch
Check out our hashtags #allthingsankarabrunch #slayeatrepeat #allthingsankara
See you at the brunch ankaranistas!