Ankara Miami Fashion Week is back!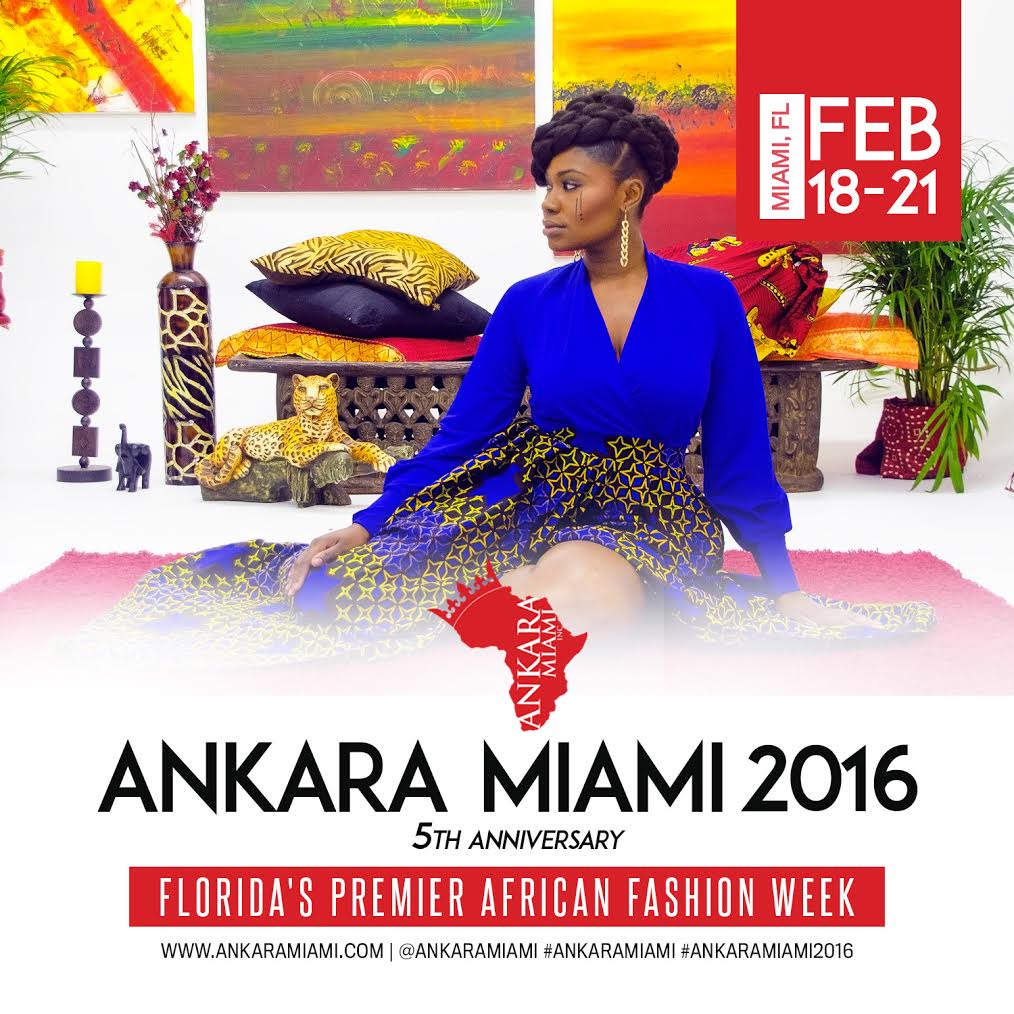 Ankara Miami is a South Florida based event-planning company committed to promoting both people and trends within the African Diaspora. Since our establishment in 2011, our events have ranged from producing Florida's first and largest African-inspired runway production (also entitled "Ankara Miami") to local community service initiatives, beauty/natural hair expos, professional networking mixers, grand openings/product launches, and other public and private events.
For Ankara Miami – Florida's Premier African Fashion Week, our annual series of fashion industry related and red carpet events, we've been grateful to have worked closely with notable corporate and culturally-based brands (ex. Macy's, Arik Air, Inglot Cosmetics, Greater Miami Convention & Visitors Bureau, Toyota of North Miami, Diaspora Arts Coalition, Natural Trendsetters Salon, Fela! On Broadway) as well as local and international media (HOT 105, Huffington Post Miami, Black Enterprise, Essence, Cool FM – Nigeria, Complete Fashion – Nigeria, Zen Magazine – Nigeria, Tropics Magazine – South Africa). We've also had designer and vendor participation from throughout the United States and as far as Nigeria, Ghana, Senegal, and Paris.
From women and menswear, to accessories and home decor, the rise of African and African-inspired trends is the subject of much inspiration to the Western fashion world. What has kept African print modern and edgy is the contemporary interpretation and its acceptance by celebrities, magazines, social media, and most importantly, consumers.
Schedule of events: 
Friday, February 5 – Afropolitan Miami feat. Ankara Miami 2016 Preview Showcase
Saturday, February 13 – Macy's Black History Month feat. Ankara Miami 2016 Preview Showcase (to be confirmed)
Thursday, February 18 – VIP Meet & Greet
Friday, Februrary 19 – Emerging Designers Runway Showcase
Saturday, February 20 – Established Designers Runway Showcase
Sunday, February 21 – Ankara Delights Pop-Up Shop
2016 Event Deck – https://db.tt/5anIlzzP
Event Recaps: 
2015 Post Release – http://bit.ly/1QKy9zD
2015 Recap – https://vimeo.com/141823074 (3:44)
2014 Macy's Recap – http://youtu.be/L677bqPRG4A (2:50)
Registration/Website: www.AnkaraFashionWeekMiami.com
Social Media: @AnkaraMiami | #AnkaraMiami | #AnkaraMiami2016
Credits (via Instagram)
Event Exec Producer: @EvelynO11 of @AnkaraMiami
Photo credit: @dr.stew of @ElysianArts
Hair: @naturaltrendsetters
MUA: @kerieannlondon
Set design: www.DramatikaDSigns.com by Ms. Betty Wright (Grammy-Award winning recording artist)
Models: @amethystlinda (blue @wamuirucouture dress), @adoch (blond w/ @wamuirucouture dress), @1coollana (blk @wamuirucouture jkt), @letzrage (blk @jzofashion_ng menswear), @hasani81_ (wht @jzofashion_ng menswear)
Creative direction: @iammariesandra & @2chixwithacamera
Graphic design: @84Studios